Corneal Ulcers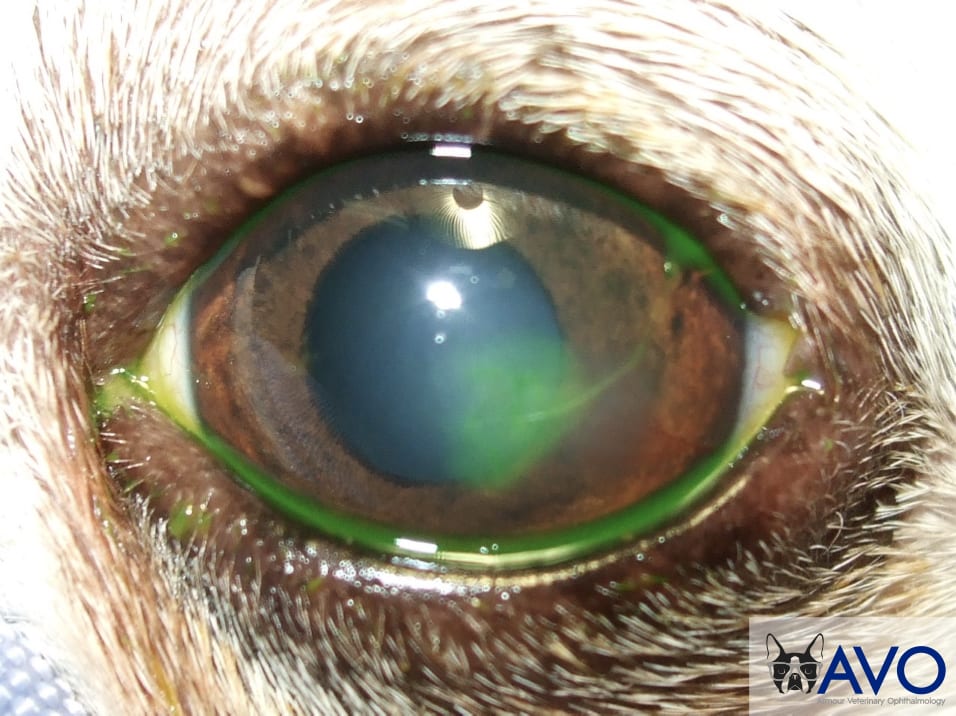 Eye ulcers, also known as corneal ulcers, can be painful. Treatment depends on the severity of the ulcer.
Armour Veterinary Ophthalmology specializes in the treatment of a variety of eye conditions in pets, including treatment for eye ulcers.
What is an Eye Ulcer / Corneal Ulcer?
The outer clear layer of the eye is called the cornea. An ulcer is a break or a "scratch" in the cornea.
Superficial Ulcers
Superficial ulcers typically heal in 5-7 days. These ulcers can be painful, as the nerve layer in the cornea is also very superficial. They generally respond well to topical antibiotics, pain medications, and sometimes anti-inflammatory medications.
Deep Ulcers
Ulcers that do not heal in 5-7 days and that progress into the deeper layers of the cornea (stroma) are considered complicated. This is often because they become secondarily infected, are associated with aberrant hair growth, or due to an ocular foreign body. These ulcers can worsen rapidly and removal of the cause of the ulcer (if possible) is often necessary.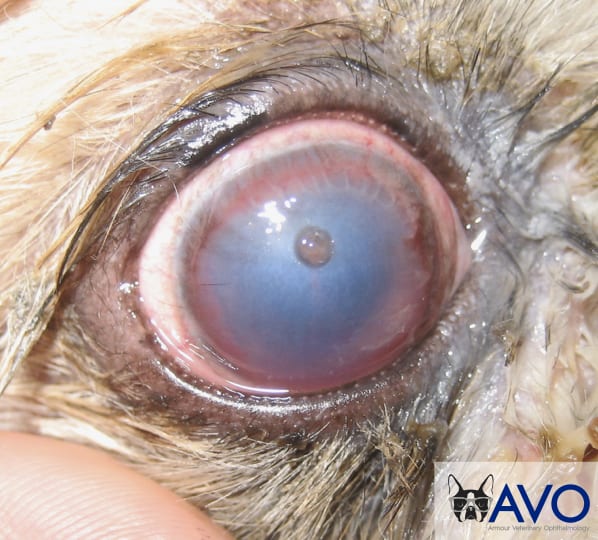 In ulcers that involve >50% of the thickness of the cornea, surgery is recommended. These ulcerations can cause corneal rupture and vision loss. Diligent and aggressive medical management can sometimes help decrease the size and severity of the ulcer. The purpose of surgery is to provide tectonic support and reduce the risk of corneal perforation. Typically, surgery yields a 95-98% success rate of globe preservation and maintaining vision. Possible complications of the tectonic grafting procedure include suture dehiscence, corneal scarring, progressive infection, inflammation and endophthalmitis (infection inside the globe).
Located inside the Friendship Hospital for Animals in Washington D.C., we serve patients throughout the greater Washington D.C. area including Maryland and northern Virginia.
If your pet has been diagnosed with a corneal ulcer, our team can help!
Our practice is conveniently located in the Friendship Hospital for Animals in Washington D.C. We serve patients throughout Maryland and northern Virginia.