About AVO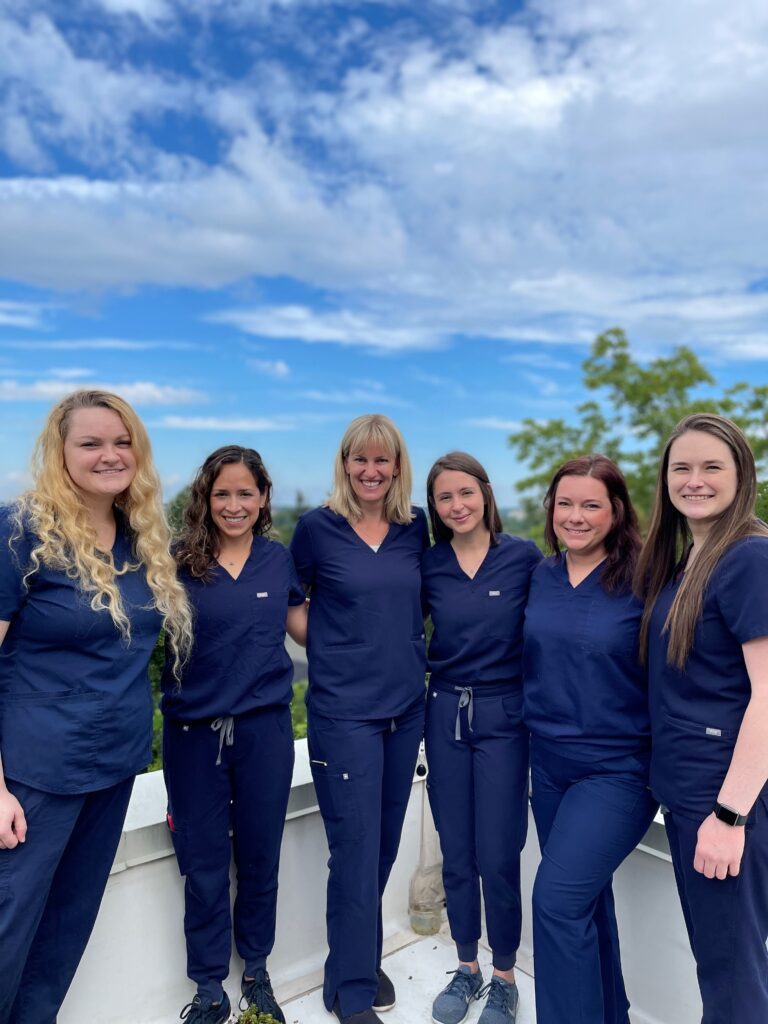 Armour Veterinary Ophthalmology, led by Dr. Micki Armour, specializes in ophthalmic care for dogs, cats, a variety of exotic animals and pocket pets throughout Washington D.C., Maryland, and northern Virginia.
Our team is focused on exceptional quality, providing the highest standards of patient care and client communication.
As part of the innovative team at Friendship Hospital for Animals, we enjoy support and collaboration with general practitioners, emergency veterinarians, and other specialists including an on-site, board-certified veterinary anesthesiologist, all working together to provide 24-hour specialty care for all of your pets' needs.
Why Choose Us?
Specialty Services
Armour Veterinary Ophthalmology offers specialty services including:
Phacoemulsification (cataract surgery) for cataracts
Endocyclophotocoagulation (laser procedure) for glaucoma
Medical management of chronic dry eye
CO2 laser photoablation of eyelid masses without the use of general anesthesia
Specialty care of superficial and deep corneal ulcerations
Cryotherapy for aberrant hair growth
Revolutionary therapy for corneal endothelial diseases
The Latest Medical & Surgical Options
In order to provide the best service for your pet, we've invested in the latest medical and surgical ophthalmic equipment for accurate diagnosis and treatment of eye disorders. A board-certified anesthesiologist is involved in the treatment plan for every eye patient who undergoes general anesthesia. We use the latest monitoring equipment for all anesthetic and sedated procedures.

Dr. Armour also stays active at the forefront of eye care and disease treatment options by regularly attending conferences at the American College of Veterinary Ophthalmologists, the American Academy of Ophthalmology, as well as European conferences. She is an Associate member of the American Academy of Ophthalmology.
We're Revolutionizing Eye Care
Corneal Transplant
In 2017, Dr. Armour successfully completed in a canine patient the first ever documented corneal endothelial transplant (endothelial keratoplasty) for the condition known as corneal endothelial dystrophy. Our goal is to be a leading center, providing vision-enhancing corneal transplants for patients that would otherwise undergo painful corneal bullae formation, secondary ulceration, and often enucleation.
Glaucoma Pressure Sensor
In collaboration with Qura and leaders in the field of human glaucoma, Dr. Armour has been instrumental in the development of a wireless implantable pressure sensor that can measure and monitor changes in eye pressure. This device transmits alerts in real time via text or email to physicians and other caregivers identified by the user to receive them. Memory in the device allows for data storage and is accessible for review by medical professionals on either a mobile device or computer. Stay tuned for more developments.
Our Team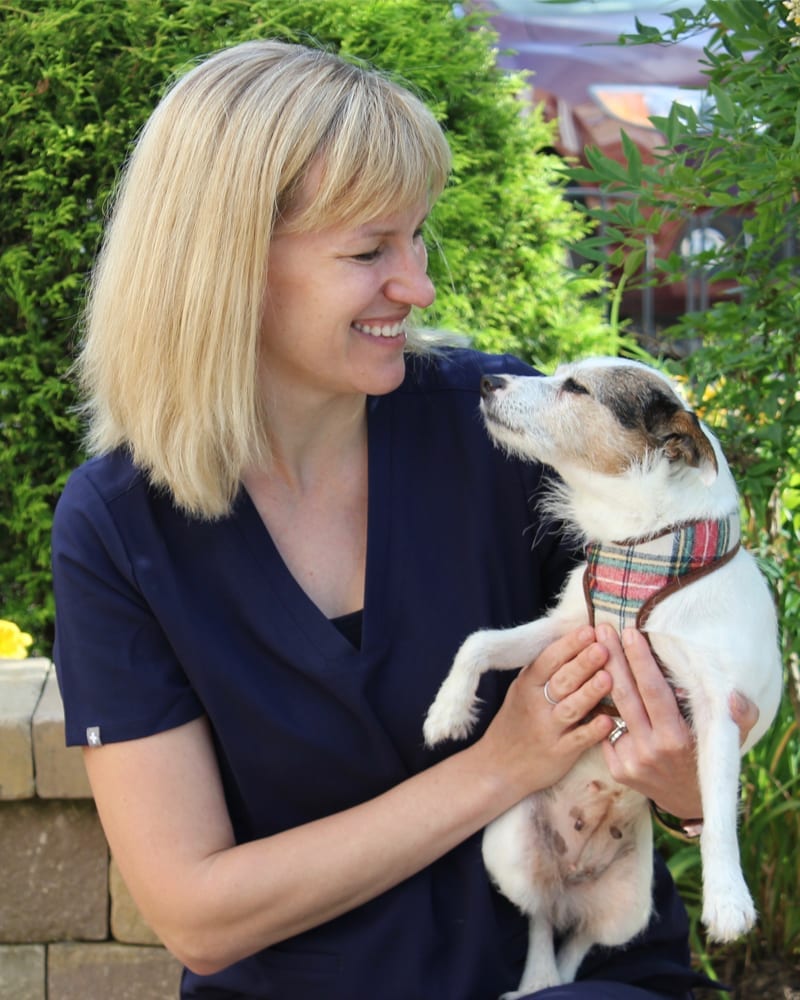 Dr. Micki Armour
VMD, DACVO
Dr. Micki Armour grew up in the Washington D.C. area and attended Holton-Arms School in Bethesda, Maryland. When she was growing up, her own pets were patients at Friendship Hospital for Animals.
Dr. Armour finds the field of veterinary ophthalmology fascinating with plenty of opportunities to establish long-term relationships with her patients and their families, as well as a great balance between practicing medicine and performing complex surgery.
As part of her ongoing education, Dr. Armour collaborates with human ophthalmologists in the field of corneal diseases, glaucoma, and cataracts. She is an Associate Member of the American Academy of Ophthalmology and attends conferences at the American College of Veterinary Ophthalmologists and the American Academy of Ophthalmology.
She and her husband Phil and have 3 sons, Brayden, Finn and Eric. Micki enjoys running, skiing, ice hockey (go Caps!) and being active with her boys. Her first-born "child" Brody (a black lab) loves to hike in Great Falls park.
---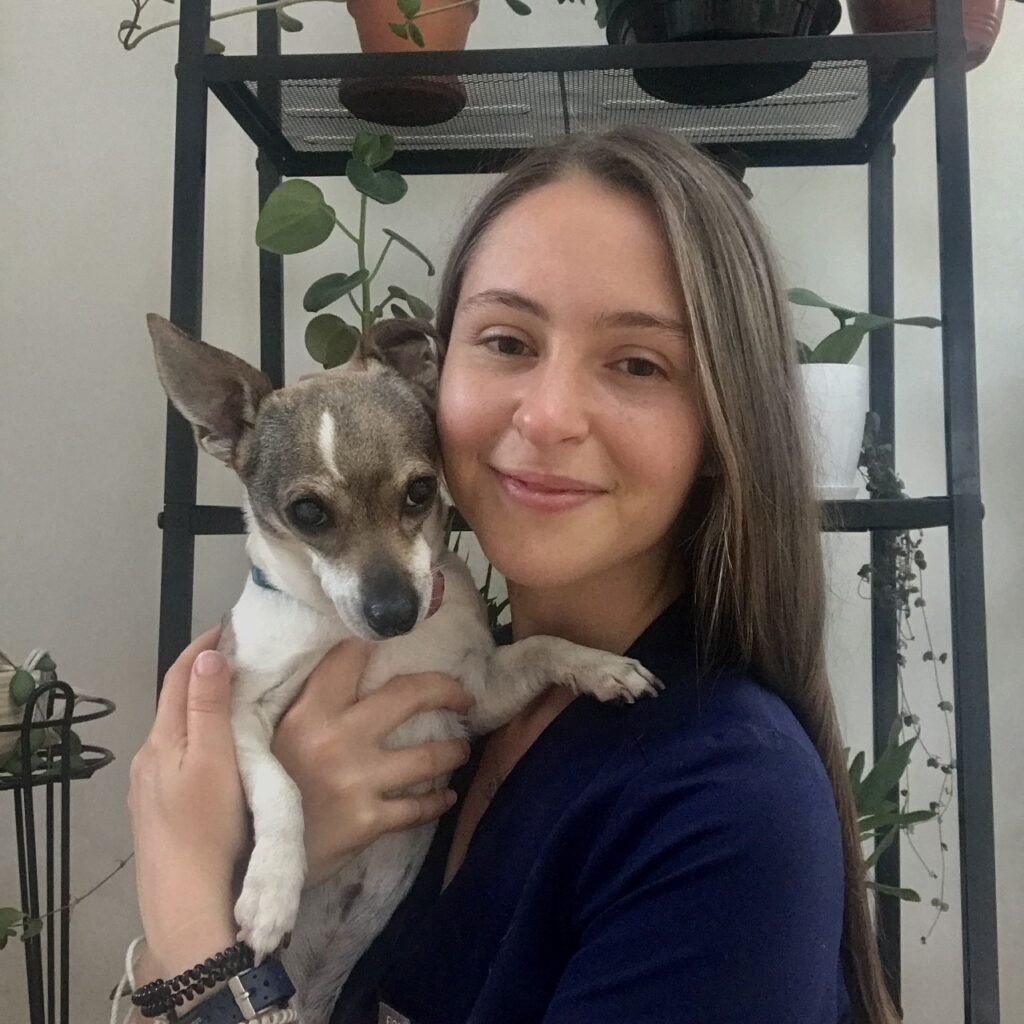 Dr. Victoria Perez, DVM
Ophthalmology Resident
I grew up in Miami, Florida and studied cognitive science with a focus on linguistics and cognitive neuropsychology at Johns Hopkins University. During my undergraduate studies, I decided to pursue veterinary medicine. Following graduation, I returned to South Florida, spending about two years working in wildlife rehabilitation, primarily with seabirds. In 2017, I moved to Ithaca where I completed veterinary school at Cornell University and began developing my interest in ophthalmology. I completed my rotating internship at Friendship Hospital for Animals, and was fortunate enough to stay on as the ophthalmology intern with Dr. Armour and her amazing staff!
In my spare time, I enjoy tending to my houseplants, building terrariums, and volunteering with bat rehabilitation and conservation. I love kayaking, hiking with my dogs, and simply spending time outside when the weather is warm. Whenever I get the chance, I go back home to Florida to visit my dogs, cats, geese, ducks, chickens, tortoises, sheep, pig, and bunny.
---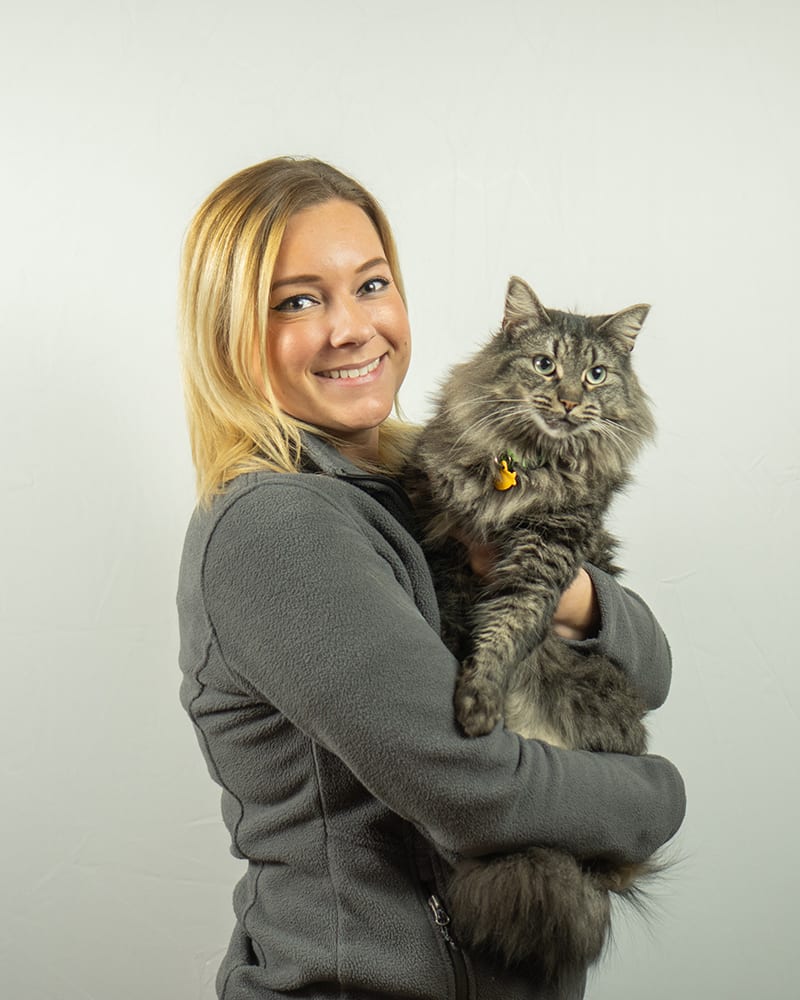 Holly
Ophthalmology Coordinator
Holly has worked in client services in the veterinary field for 7 years. She started working for Dr. Armour a few years ago and has been engulfed in the ophthalmology world! She finds eyes extremely interesting, as well as tricky to understand, so she learns something new about them every day at work.
Holly rescued an adorable lab mix and lives happily in Fairfax, VA.
---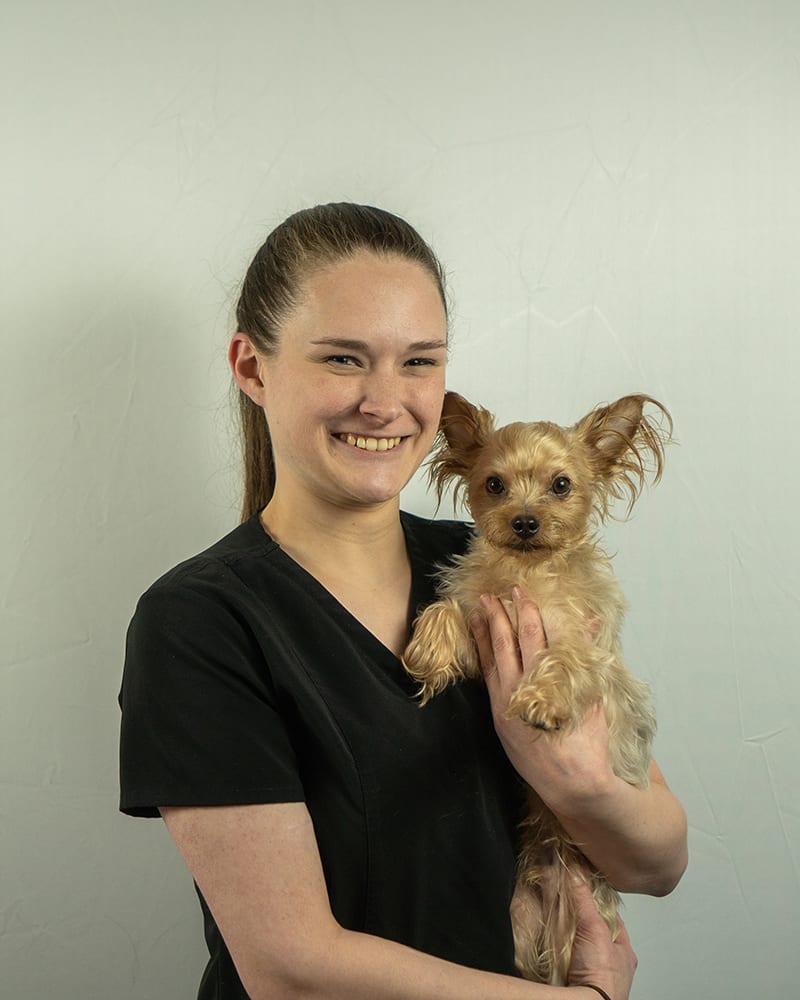 Lisa
Licensed Veterinary Technician
Lisa had a passion for animals from a young age and began working in the veterinary field when she was 16 years old. She graduated from NOVA's Veterinary Technology program in 2012 and is so happy that she is able to do what she loves every day.
When she isn't working, Lisa enjoys the company of her two dogs, Teddy and Sadie, as well as spending time with friends and family.
---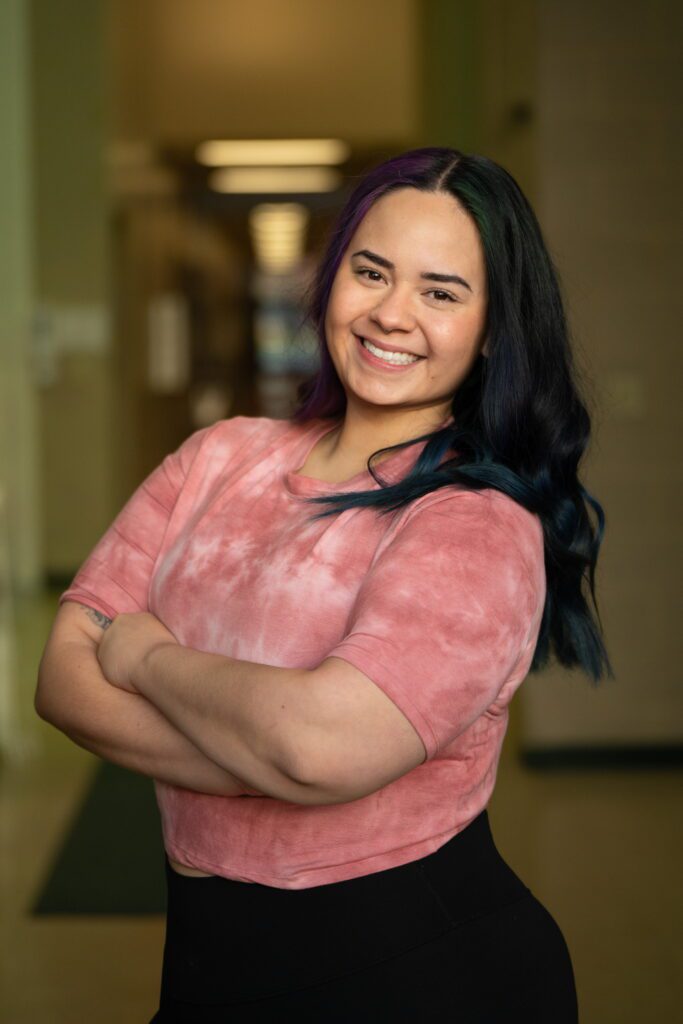 Caitlin
Licensed Veterinary Technician
I was born and raised in the SF Bay Area. Growing up with a strong affinity toward animals, I decided to pursue a career in the Veterinary field and graduated in 2014 with my degree in Veterinary Technology. I have worked as an RVT/LVT/CVT in California, Nevada, Maryland, Virginia, and D.C. and am so happy to be a part of this ophthalmology team!

I'm a human mom, dog mom, cat mom, fish mom and also care for my elderly parents. I enjoy olympic weightlifting and powerlifting, traveling, and family time. (Fun fact: my son Naim is named after the greatest Olympic weightlifter of all time!)
---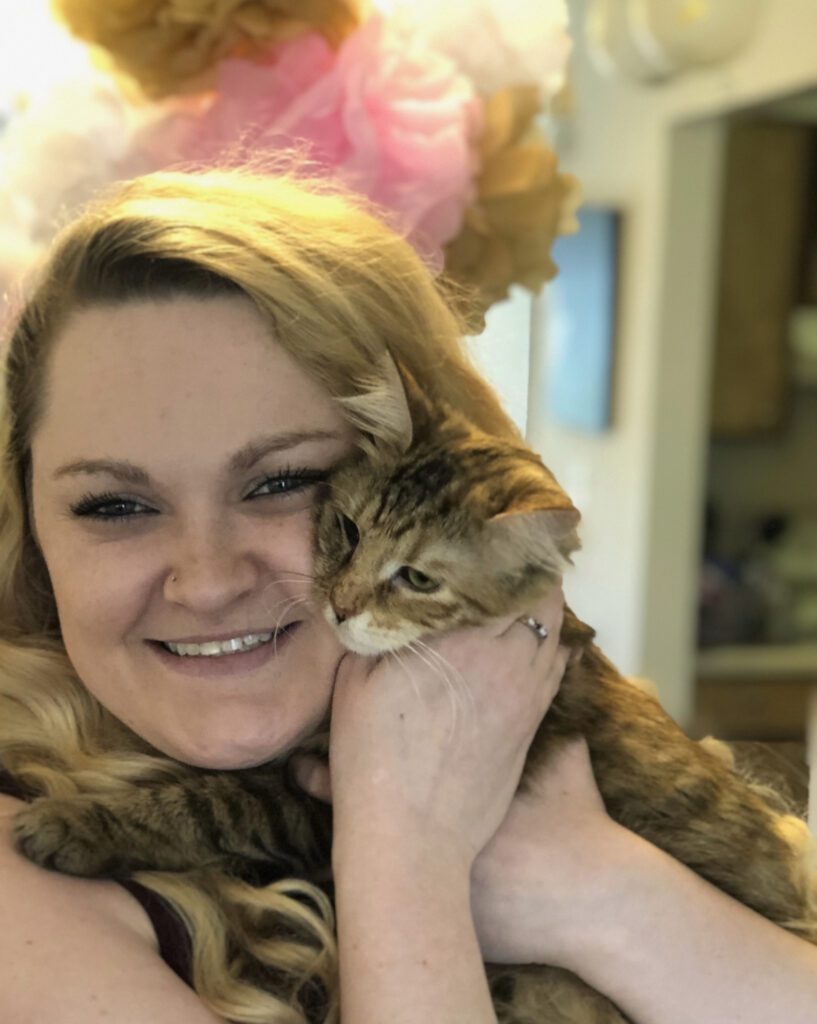 Georgia
Veterinary Assistant
Originally from Pensacola, FL, I moved to the DC area in June 2022 for the awesome opportunity to expand my knowledge in the veterinary field. I graduated with my Bachelor's in Biology from University of West Florida and hope to continue to vet school in the future. I've been a veterinary technician for over 3 years, and I'm so happy to be in this field of work saving and taking care of our beloved furry family members.
Outside of work I love to spend time with my cats Peak and Poppy, play video games, garden, visit all the amazing museums, and enjoy the local wildlife.
---